St Maarten Gourmet Sailing and Snorkel Cruise
Caribbean » Netherlands Antilles » St Maarten » St Maarten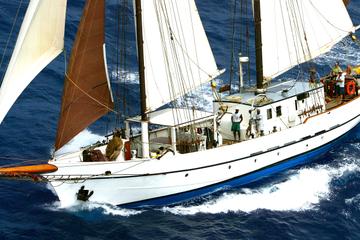 (5.0)
Duration: 4 hours 30 minutes
Departs: Simpson Bay, St Maarten
Price from USD 98.99
Book Now
Enjoy smooth sailing from St Maarten, and dine on a gourmet lunch as you cruise in the Caribbean. Aboard a luxurious schooner with an expert crew, you'll sail over turquoise waters along the beautiful island coastline. Enjoy fresh fruit and home-baked snacks along with rum punch, wine and beer from the open bar. Snooze on deck or swim and snorkel in Long Bay during your relaxing 4.5-hour ride! Receive personal attention on this small-group tour, limited to 20 passengers.
Meet your expert crew at the St Maarten Yacht Club Bar and Restaurant at 11am. You'll board the Passaat, a historical 100-foot (30-meter) sailing schooner built in 1911. Then, prepare to set sail for your half-day Caribbean cruise along the gorgeous coastline of St Maarten!
During your small-group cruise, relax in the absence of a crowd and enjoy a delicious snack—typically homemade banana or coconut cake and fresh tropical fruits. The open bar is available throughout your ride with a choice of wine, beer, rum punch, soda or juice.
Without music on board to disrupt the peace, you can just listen to the wind in the sails and the water against the hull.
The boat stops in Long Bay, one of the
quietest and calmest snorkel areas
on St Maarten's French side
—
St Martin.
You'll have the opportunity to dive into the crystal clear waters and snorkel around this beautiful bay!
Your gourmet Caribbean lunch is served at a shaded table on the foredeck. Choose between mahi mahi or chicken filet, each accompanied by mango sauce, salad, rice, plantains and bread. (Vegetarian option is available upon request in advance.)
After lunch, snooze on the aft deck as your crew returns you back to shore.
« All Activities