Trolley Train Historical Philipsburg Tour
Caribbean » Sint Maarten » Sint Maarten » Philipsburg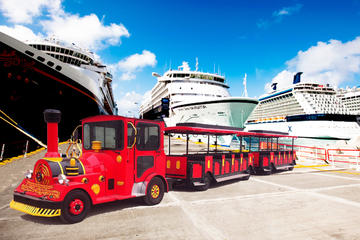 Duration: 90 minutes
Departs: Philipsburg, Sint Maarten
Price from USD 39.95
Book Now
During this tour you will depart the harbor and be shown the charm and scenery of the south part of the island which has been flying the flags of both Holland and France since 1648. You will be driven from Phillipsburg, the Dutch capital, and in to the Great Salt Pond Island.
You will continue sightseeing across the north side of Philipsburg until we visit the Great Bay Beach for pictures with the Cruise Ship in the back ground. We'll hop-on our Trolley Train with sand in our feet and be able to enjoy the sighs on our way to visit Fort Amsterdam.
Driving back to Front Street we will pass by the new Walter Plantz Square as well. Continuing through historical Philipsburg you while be learning the heritage and see many old buildings full of history. Arriving at the street market in Philipsburg you can stay at the first Methodist church that was built in 1785 with red bricks and a wooden roof or continue the ride with us and stay on Front Street for an included entrance to Sint Maarten's Museum.
« All Activities